The Order: 1886 Developer To Announce New Game Next Week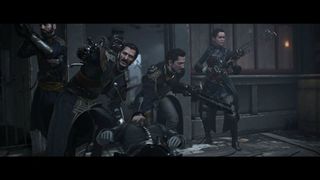 The developer behind The Order: 1886, Ready At Dawn Studios, announced Thursday that they were readying themselves for a major announcement next week, the announcement of their next game.
GameSpot spotted the news and reported that Ready At Dawn plans to announce their first title to come out of GameStop's new publishing company. GameStop COO Tony Bartel said,
We have no idea what kind of game Ready At Dawn Studios plans to announce, but we do hope it will be better than The Order. The Order: 1886 had a lot of hype leading up to release and fans seemed pretty thrilled to give it a try. But once it released and everyone got a chance to play, people seemed to realize the game didn't quite live up to the hype. While some thought it was just okay, other tore it apart for its weak story. Luckily that game wasn't enough to destroy their name and Ready At Dawn Studios is making a comeback with a different publisher.
GameStop has only recently announced its new independent publishing company, GameTrust, which has taken under its wing the game Song Of The Deep from Insomniac Games and has deals with the developers Frozenbyte, Ready At Dawn Studios and Tequila Works. What's great about GameTrust is it's not going to be like other major publishers where they are going to demand certain things of the game. GameTrust will stay out of the development process and let the developer do what they need to do to make the game happen, so they might as well just be an indie studio.
It has been mentioned that at least one of the games to come out of GameTrust will be a VR game, so there's a possibility Ready At Dawn Studios' announcement could be that game, but we won't know until next week. If you'd like more information, you can visit the GameTrust official website.
Your Daily Blend of Entertainment News
Thank you for signing up to CinemaBlend. You will receive a verification email shortly.
There was a problem. Please refresh the page and try again.