Overwatch's First Beta Weekend Is Days Away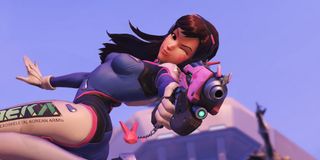 A large group of PC gamers are about to get a chance to play Overwatch. Blizzard plans to hold a stress test for the multiplayer shooter this weekend.
This beta weekend, the first for Overwatch, will kick off on Friday, November 20 at 9 a.m. PST and run until Monday, November 23 at 9 a.m. PST. Players from North America and Europe who opted into the beta through their Battle.net account settings will be eligible for the test. Testers will be chosen based on their system specs, how long ago you signed up, and "an element of luck."
Speaking of system requirements, here's what you need to run the game:
Minimum (targeting 30fps):
Operating system: Windows® Vista/7/ 8/10 64-bit (latest Service Pack)
Processor: Intel® Core™ i3 or AMD Phenom™ X3 865
Video: NVIDIA® GeForce® GTX 460, ATI Radeon™ HD 4850, or Intel® HD Graphics 4400
Memory: 768 MB VRAM, 4 GB System RAM
Storage: 7200 RPM with 5 GB available HD space
Recommended (targeting 60fps on Medium settings)
Operating system: Windows® Vista/7/ 8/10 64-bit (latest Service Pack)
Processor: Intel® Core™ i5 or AMD Phenom™ II X3, 2.8 GHz
Video: NVIDIA® GeForce® GTX 660 or ATI Radeon™ HD 7950
Memory: 2 GB VRAM, 6 GB System RAM
Storage: 7200 RPM with 5 GB available HD space
Blizzard will begin flagging accounts for beta access on Thursday during a maintenance period. Apparently there won't be any beta key giveaways, or at least not this time around. There are three ways to tell whether you're invited to the test or not:
Blizzard sends you an email invitation to the address you registered for your Battle.net account
An Overwatch beta license is visible under the Game Accounts section of your Battle.net Account Management.
There's an Install button on the Overwatch tab of your Battle.net desktop app.
One note about emails, though: there are bound to be some shady characters sending out fake invites in an attempt to trick gamers into divulging personal information. If you don't think an Overwatch email is legitimate, don't click on any links in the message. Instead, just directly check your Battle.net account or desktop app to see if you have access to the test.
During the beta test weekend, all players will have access to the entire roster of 21 heroes. This includes D.Va and the other two new additions. However, you'll only be able to play three maps from the full version: Hanamura, King's Row, and Watchpoint: Gibraltar. Blizzard limited the content of the beta because this weekend is first and foremost a hardware test:
Blizzard didn't say how many players will be invited to play this beta weekend. It's also unclear how many of these stress tests they'll hold. The developer did mention in the beta FAQ, though, that the next weekend test probably won't be until 2016. Furthermore, they don't guarantee that everyone who signs up for the beta will get into one of these tests.
Last month, Blizzard started the closed beta with a much smaller pool of players who can test a wider range of the game's content. These closed beta participants also have access to the stress test weekends. Blizzard will be periodically adding more players to the closed beta over time.
Overwatch will officially launch in Spring 2016. Though the beta is limited to the PC, the game will also be available on PS4 and Xbox One.
Staff Writer at CinemaBlend.
Your Daily Blend of Entertainment News
Thank you for signing up to CinemaBlend. You will receive a verification email shortly.
There was a problem. Please refresh the page and try again.