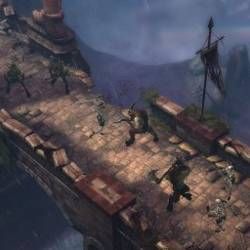 Last weekend at PAX, Blizzard was out in full force with its three big properties, and I got a chance to get some hands on time with Diablo III. The first thing to notice about Diablo III is that it looks insanely good and runs incredibly smoothly. Much like Starcraft II, Diablo III's environments are fully rendered 3D objects, instead of the flat "paint job" style of the previous games. Not only does the complete 3D make the game look more consistent, it also allows for a first in the Diablo universe: destructible environments. They're nothing big, but it's something that really helps with the immersiveness.
Blizz has also worked on getting the game to feel more "action-y" then the previous titles. In older Diablo games, you've generally got the two mouse buttons to click for attacks and then you can hotkey the number keys for potions and items in your inventory. This worked okay, but most of the game would consist of a player running into a giant mob of mobs, clicking like mad, and then hitting the 1-4 buttons to keep your health at max while you beat the snot out of some goblins. Blizzard has completely done away with health potions in your inventory (at least, from what I saw at PAX), and instead added enemy drops that automatically activate when you run over them. This frees up the number keys for hot-linked skills, greatly increasing the amount of skills you can use on the fly
I also took this chance to try out the recently announced Monk class. The Monk plays like a cracked out version of Lord of Destruction's Assassin character, meaning he's incredibly fast and powerful and destroys everything around him within a few seconds. I shouldn't talk too much about how the monk plays, however, because Blizzard has already said that they're nowhere near done with the character, and as of right now he's overpowered.
Even though the game is exactly what Diablo fans are looking for, my time with Diablo III was bittersweet. Blizzard has already stated that the game won't be coming out this year, and the odds of it coming out next year are not looking great, what with another WoW expansion and three Starcraft games to deal with. Regardless, Diablo III is on track to being the great hack-n-slash game that PC owners have been longing for since, well, since Diablo II came out.
Your Daily Blend of Entertainment News
Thank you for signing up to CinemaBlend. You will receive a verification email shortly.
There was a problem. Please refresh the page and try again.