PAYDAY: The Heist Is Free This Weekend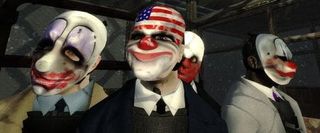 Sony Online Entertainment is trying to tempt you into playing PAYDAY: The Heist this weekend. The game is free to play through Steam until 1pm PST on Sunday.
In PAYDAY, up to four players team up to pull off daring heists. Jobs range from hijacking an armored car to robbing a bank. Players will have to bypass security, take hostages and fight off any law enforcement in their way. If one of the players is captured by police, his teammates can exchange a hostage for him.
PAYDAY ships with six heists but is designed to be very replayable. Many events, such as ambushes by law enforcement, are randomly generated. Furthermore, the game has a detailed progression tree that lets you unlock new items and weapons.
If you enjoy the free weekend, you'll be able to buy PAYDAY on the cheap. Steam is currently selling the game for $9.99 instead of the usual $19.99. The Four Pack is also being offered at a 50% discount, bringing its price down to $29.99. Both offers will expire on March 5th.
Image 1 of 6
Your Daily Blend of Entertainment News
Staff Writer at CinemaBlend.