PhysX Offers Up Three Free Games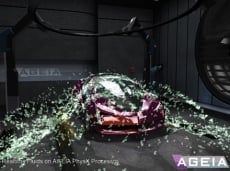 If you haven't heard, next-gen gaming requires next-gen hardware. Don't get left behind in a generation where games don't have real-time calculated physics and dynamic physical effects. For a limited time, Ageia is offering gamers a bundle pack of games worth $100, for FREE.
You might say that isn't much of a deal, or think there's a catch...well there is a catch. You have to buy AGEIA PhysX Add-In-Boards from BFG Technologies or ASUS to qualify for the $100 bundle pack. Yet you still don't think it's a good deal?...Honestly, think about it?
• AGEIA PhysX power hardware that allows for next-gen physics and PPU effects
• Full version of City of Villains,
• Full version of Bet on Soldier: Blood of Sahara
• Full version of Tom Clancy's Ghost Recon Advanced Warfighter.
• In addition, the bundle will also include a demo of Cell Factor: Combat Training.
And besides, you won't be able to play Cell Factor without a PPU video card. And Ageia is the only company offering one, for now. Michael Steel, Vice President of Marketing at Ageia, commented that "PhysX is the next chapter of gaming evolution. PhysX based games deliver an immersive experience that engages players like never before. These games are a great way to wet consumers' appetites for what's coming this holiday season."
If you want more information regarding a Physics Processing Unit (PPU) video card, or would like to purchase the video card PPU and bundle pack, you can visit Ageia's Main Website.
Staff Writer at CinemaBlend.
Your Daily Blend of Entertainment News
Thank you for signing up to CinemaBlend. You will receive a verification email shortly.
There was a problem. Please refresh the page and try again.