Planets3 Hits Kickstarter Goal; Gamers Really Want A Minecraft Killer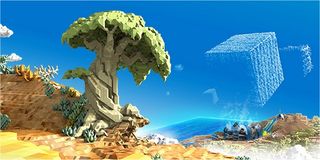 Kickstarter has had its fair share of successes and bombs. Some games we wanted to see Kickstarted don't get Kickstarted and some games you don't care about make it past the finish line anyway. Other times, games that have a certain kind of momentum circling their ecosphere are the very games we sit back and watch – waiting to see if they will hit their goal. In the case of Planets3 (pronounced Planets cubed), the game has successfully been Kickstarted... and then some.
Aiming for a $250,000 goal, Planets3 from studio Cubical Drift has managed to accrue $277,074 from a total of 9,104 backers as of the writing of this article. The Kickstarter campaign isn't quite finished yet, as the team still has 35 hours to go and a few more dollar bills to count.
Michel Thomazeau, Planets3 Project Director commented about the success of the Kickstarter campaign, saying...
For those of you who don't know, Planets3 fits into the fold as a Minecraft clone. However, it goes a bit beyond that and has the feature-set to be a potential Minecraft killer.
The game sports all the standard Minecraft-esque gameplay features, so players can dig, explore and build until their heart's content. But what's more is that there are expanded features, such as building objects and then upgrading them, or designing vehicles and flying mobiles and going exploring with a few friends.
There's also the fact that the game takes a slightly more planetoid approach to exploration, so you can basically explore a planet and then go flying to a new planet, mine for resources and then jettison off to an even farther away rock.
You'll need an HTML5 capable browser to see this content.
For the video above, you'll need an HTML5 capable browser in order to see the content, so if nothing shows up... I guess it's time for an upgrade.
You can learn more about Planets3 – as it finishes off its Kickstarter – by paying a visit to the official Kickstarter page. The game is expected to arrive in some playable form by October in 2015. So it's a ways off.
Staff Writer at CinemaBlend.
Your Daily Blend of Entertainment News
Thank you for signing up to CinemaBlend. You will receive a verification email shortly.
There was a problem. Please refresh the page and try again.