Playable Path-Tracing Demo Available, Showcases Photorealistic Gameplay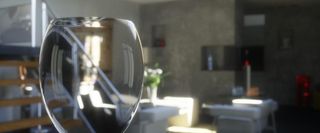 There were a lot of naysayers about video games reaching the quality of Avatar anytime soon, but a new playable tech demo from the Brigade 2 Engine makes it possible to play what will be the next-generation of gaming, enabling gamers to participate in an interactive world with photorealistic graphics.
DSO Gaming notes that developer Hayssam Keilany has released a new playable demo designed from the Brigade 2 engine, but there's a bit of a downside, as noted by DSO...
Ray-tracing has long since been referred to as a mythological method for graphics display and that it wouldn't be any time soon that we would be playing games using ray-tracing lighting and mapping techniques, but I guess the Brigade 2 kind of proves them wrong, eh?
If you think the demo is something you'd like to give a try and you have a really high-end Nvidia card (especially one in SLI) be sure to try out the Portal-esque demo called Reflect by downloading the demo right here. And remember, you need a really hefty rig to play it, otherwise it'll be like trying to climb mount Everest with clip-on nails, no gloves and oily hands. Just not going to happen, ace.
To learn more about path-tracing and the Brigade 2 Engine be sure to visit the Official Website.
Staff Writer at CinemaBlend.
Your Daily Blend of Entertainment News
Thank you for signing up to CinemaBlend. You will receive a verification email shortly.
There was a problem. Please refresh the page and try again.