Primal Carnage Pre-Orders Now Available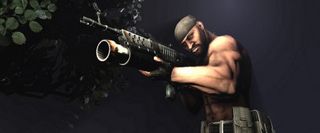 You want to start hunting dinosaurs or hunting as a dinosaur? Well, you won't be able to do so just yet but if you know that's going to be a pastime activity happening in your very near-future, why not go ahead and pre-order Primal Carnage, because if you didn't know before you can pre-order the game...like, right now.
The dino-vs-human team-deathmatch action shooter offers gamers a unique perspective on the competitive first-person shooter genre. While it's certainly not the first game to offer up this kind of mode, (I do believe this was first featured in the free-to-play shooter Project Blackout a short while ago) it at least aims to polish up the interactions, dino abilities and human skills.
Each class of character and dinosaur gives gamers a little bit something different to experiment with, as the game revolves around tactically taking down opponents either as dinosaurs or humans, working together as a team and using each skillset from various classes to the utmost advantage.
The game is running on the Unreal Development Kit, so it was designed first and foremost for shooting enthusiasts. The team behind the game, Lukewarm Media, seem to have done a fine job of making the shooter look polished and unique.
If Primal Carnage tickles your shooter-bone, then feel free to follow-up on your piqued interest by visiting the Official Pre-Order Page for the game. The title is expected to launch for $14.99 and pre-ordering now earns you early closed-beta access before the game officially launches on Steam. For more non-pre-ordering information on the title, feel free to visit the Official Website.
Your Daily Blend of Entertainment News
Staff Writer at CinemaBlend.