Primal Rage EVGA Multiplayer Gameplay Trailer Takes To The Jungle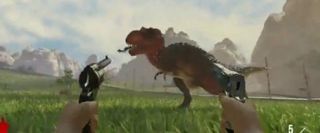 A new gameplay trailer was released for the upcoming indie, dino vs human deathmatch game, Primal Rage. The gameplay trailer is a hard-hitting, fast-paced jungle romp featuring multiple firearms and various dinosaurs all mish-mashed together in a heated spectacle of bullets versus brawn.
You can check out the new trailer for Primal Rage below, all three minutes of that flesh biting, skin tearing action. The game definitely looks like it's going to be a heck of a lot of fun when it releases.
Notice how, despite the fact that this is an indie game, the foliage was dynamic and physics based? Did you see all the soft shadowing and HDR? Was that not impressive or what? It really is telling of how far PC gaming has come along when people on shoestring budgets can output titles that look better than triple-A, big-budget titles on home consoles.
And a big shout out to EVGA for making PC gaming look like a complete generation ahead of its console counterparts.
You can look for more news and media for Primal Rage to surface when it draws closer to its beta by visiting the Official Website.
Staff Writer at CinemaBlend.
Your Daily Blend of Entertainment News
Thank you for signing up to CinemaBlend. You will receive a verification email shortly.
There was a problem. Please refresh the page and try again.