Professor Layton Vs. Ace Attorney Screenshots Show Double Objections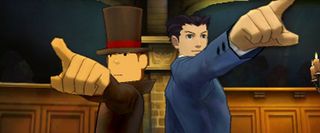 Capcom has sent out new screenshots for Professor Layton vs. Ace Attorney. The game, a collaboration between Capcom and Level-5, brings two popular DS adventure series together on the 3DS.
PLvAA takes place in a medieval town known as Labyrinth City. Labyrinth is believed to be under assault by a mysterious group of witches. A young girl named Mahone is accused of witchcraft and brought to trial.
Phoenix Wright, the defense attorney who loves impossible cases, takes it upon himself to defend Mahone. Meanwhile, Professor Layton investigates the city and tries to find out what's really going on there. The game will switch back and forth between Wright's court-room sparring and Layton's puzzle-based searches.
The game's scheduled for a November 29th release in Japan. Capcom has yet to indicate a Western release. However, perhaps they'll announce something during Tokyo Game Show next weekend.
Staff Writer at CinemaBlend.
Your Daily Blend of Entertainment News
Thank you for signing up to CinemaBlend. You will receive a verification email shortly.
There was a problem. Please refresh the page and try again.