Rabbids Go Home: Barack Obama Gets Violated In New Trailer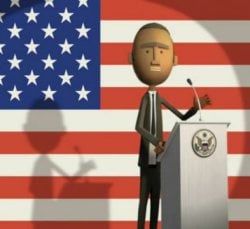 It was bound to happen…someone had to go there and it wasn't Rockstar. Yes, Barack Obama has been violated in the new Rabbids Go Home trailer and it was Ubisoft who happened to be the culprits behind this devious video.
Aside from Barack Obama getting stripped down to his little thong, the video lays out the premise of the new Wii exclusive: the Rabbids must get home and you have to help them by collecting everything. Not a very complicated plot but it's a kid's game. What, you were expecting something on the line of War and Peace? Dream on.
Anyway, the trailer is fairly entertaining but contains no in-game play. I'm sure we'll be seeing more of this game when E3 starts. You can check out the new trailer below, thanks to Game Trailers, or visit the Official Ubisoft Website for more info on Rabbids Go Home. For more gaming news, updates and insight, be sure to stay tuned in with Blend Games.
Staff Writer at CinemaBlend.
Your Daily Blend of Entertainment News
Thank you for signing up to CinemaBlend. You will receive a verification email shortly.
There was a problem. Please refresh the page and try again.