RaiderZ Screenshots Release Ahead Of Open Beta Launch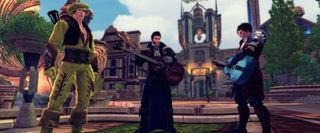 Perfect World Entertainment and Maiet Entertainment, the developers behind the long-running smash hit GunZ, has let loose 10 new screenshots for the free-to-play monster hunting MMO, RaiderZ. In addition to this, they also announced another stress test just two days before the game heads into open beta.
The stress test that took place earlier this week was and was not successful. Some gamers in some regions claimed to have an excellent experience, other gamers in other regions claimed that the lag was so bad that they could neither accept nor complete quests. Ouch.
Since there was a lot of tricky server work involved, Perfect World wants to ensure that the game launches smoothly and will be rolling out another stress test two days before open beta on October 22nd. Here, gamers will be able to pile into the game and play to their heart's content, ensuring that there's a smooth play experience for the open beta phase that begins on October 24th.
The game itself is pretty fun and captures a lot of the atmosphere and dynamics of Monster Hunter while putting players in an open, MMO type setting. At the higher levels there are bigger and badder bosses that requires a full team of hardened hunters to bring them down and the game's character customization enables for meager variety of character variety.
You can learn more about this free-to-play MMO by visiting the Official Website. And don't forget to check out the new screenshots below.
Image 1 of 10
Image 2 of 10
Image 3 of 10
Image 4 of 10
Image 5 of 10
Image 6 of 10
Image 7 of 10
Image 8 of 10
Image 9 of 10
Image 10 of 10
Staff Writer at CinemaBlend.
Your Daily Blend of Entertainment News
Thank you for signing up to CinemaBlend. You will receive a verification email shortly.
There was a problem. Please refresh the page and try again.