Raiderz: The Art Of Combat Announced, Coming 2012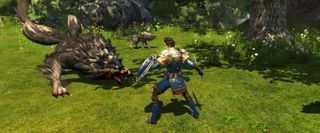 Okay, so now the new craze in the MMO metaverse is "Monster Hunter cloning". I don't think I have much of a problem with that. Following in close suit to JoyChina's open-beta announcement for Hunter Blade, Another MMO publisher announced their very own Monster Hunter-clone called Raiderz: The Art of Combat. If for nothing else, one must admit that the name sounds truly epic.
Daniel Ullrich, CMO and Manager of Frogster, stated that...
Frogster will be handling publishing for European territories, while for North Americans Perfect World Entertainment will handle the publishing duties. A brief teaser was released earlier this year by Perfect World during the E3, 2011 convention. Although, not much else was shown or said about the game after the teaser surfaced.
The game will feature physics-based combat, makes use of Nvidia's PhysX capabilities, offers up crafting, character customization, team-based monster raids, the ability to scavenge parts from a monster to make new items (ala Monster Hunter), the ability to weaken monsters by breaking off limbs and body parts (ala Lost Planet 2) as well as non-targeting, real-time action-oriented gameplay.
Closed beta sign-ups are underway right now for Euro gamers over at the Official Euro Site while North American gamers can sign-up for the closed beta over at the Official NA Site. It'll be a ways off before you're actually playing the game, though. According to the release schedule Raiderz isn't set for release until well into 2012.
Your Daily Blend of Entertainment News
Staff Writer at CinemaBlend.
Your Daily Blend of Entertainment News
Thank you for signing up to CinemaBlend. You will receive a verification email shortly.
There was a problem. Please refresh the page and try again.