Raw Danger Now Dangerously Available For PS2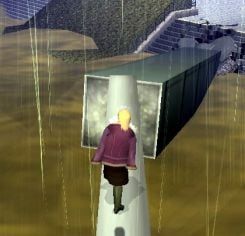 Fans of the survival genre finally have something other than vampires, demons and a largesse of zombies...man, I'm tired of zombies. Anyway, Raw Danger is an interactive survival game that prompts for multiple endings, multiple playable characters and plenty of situations requiring quick-thinking and intense critical decision making.
I can't say much for this game because there hasn't been much news about it. But the concept seems pretty darn cool – that there's survival tactics for players to employ, which doesn't include a zombie virus. Added to that, the game carries elements of non-linearity, which should make for some fascinating replay aspects. Simply given, every decision will ultimately affect the final outcome of the game – and with the multiple characters, such decision making could make for some very interesting results.
"Raw Danger is thrilling in a new way," said Mark Johnson, Vice President of Production and Marketing at Agetec. "Nothing matches the creeping horror of rising flood waters or the exhilaration of jumping out of a building just as it implodes. The game delivers all this and more."
The game is currently available, exclusive for the PS2, at the budget retail price of $14.95. You can visit Agetec's Official Website for more details and information.
Your Daily Blend of Entertainment News
Staff Writer at CinemaBlend.