ReCore Is Delayed, Get The Details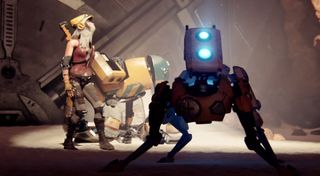 Keiji Inafune from Comcept is working with Amature Studios on the upcoming action-adventure game called ReCore and it was originally scheduled to release in Spring 2016, but now it's been pushed back to a later date. We don't know exactly how far back it's been pushed, but it's no longer looking at a spring release window.
Niche Gamer spotted the change in Xbox Wire news post where they rolled out their schedule for upcoming games due for release on the Xbox One and Windows 10 platforms. One of those games that was previously announced to have a Spring 2016 release is now just labeled as "2016"—and that game happens to be ReCore. On the upside, if you look at the details on the page, it also shows that the game is now releasing on Windows 10 in addition to launching on the Xbox One.
Microsoft seems to be rebuilding their gaming brand around both the Xbox One and Windows 10. They don't clarify if the game will also be available for those outside of their new OS – such as providing accessibility to gamers on Origin, Uplay or Steam. Instead it's left vague...very vague.
Some gamers were excited to find out that ReCore would be making the leap to the PC, but if it's coming at the cost of being exclusive to Windows 10, it's already turned some gamers off. The issue with Windows 10 is that there are a lot of concerns over privacy control and information gathering on Microsoft's end.
The company did make it clear that users would have to actively opt out of the privacy and data information gathering, which caused a lot of people to think twice about Windows 10.
The interesting thing about it is that if ReCore is exclusive to Windows 10, then it could put Microsoft right back into the same pit they were in when they were pushing for Games For Windows Live almost a decade ago. They tried building a digital service to compete with Steam and, well, you can imagine it didn't turn out so well.
Given that we haven't actually seen anything of ReCore, and it was announced along with a flurry of other games, it's hard to say how important a step it would be for this game to be Windows 10 exclusive on PC. Microsoft is also pushing for support of their new platform with other titles they helped fund such as Rise of the Tomb Raider, which will release on Steam and for Windows 10 at the end of the month.
As for ReCore being moved out of its spring release...I think it's for the best. When you haven't seen any actual gameplay or any details about a title, there's no way people would be hyped or excited enough to be willing to put money down for it with just a few months before its release.
I wouldn't be surprised if ReCore joins the other Xbox One exclusive, Scalebound, and ends up being moved into 2017. I guess we'll find out as 2016 wears on and more details emerge for the futuristic adventure title.
Staff Writer at CinemaBlend.