Realm Of The Titans DotA-Style RTS Screenshots Released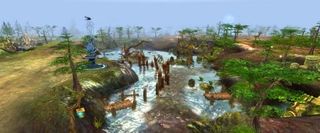 I'm tempted to say that I've become a fan of Aeria Games, and not only that but I actually look forward to the games that they have planned for release. They're one of the few F2P publishers that outputs triple-A titles equivalent to what you might find on the current gen consoles for $60. Their latest title is called Realm of the Titans and it's a DotA real-time strategy MMOG, and some new screenshots recently emerged for the highly anticipated niche title.
The game looks beautiful based on the screenshots released and maps will allow for several types of player dominance and interaction, including control points similar to Battlefield games as well as allowing for two teams of up to five heroes battling to take down villains in dangerous terrain in order to control the map.
Realm of the Titans will be free-to-play like the other highly popularized MMO from Aeria Games, Dynasty Warriors Online, and gamers interested in participating in the upcoming closed beta session can learn more by visiting the Official Website.
Staff Writer at CinemaBlend.
Your Daily Blend of Entertainment News
Thank you for signing up to CinemaBlend. You will receive a verification email shortly.
There was a problem. Please refresh the page and try again.