Romero Apologizes For Trashing Zenimax Acquisition Of id Software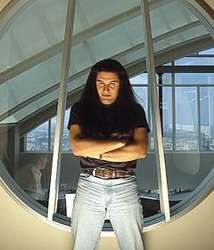 Former id Software designer John Romero (of Doom fame and Daikatana infamy) had some harsh words for ZeniMax Media earlier today when news broke that they had acquired his old company. A few hours and dozens of news stories later, he's softened his position.
This morning, he made two Tweets about the acquisition of id by ZeniMax. First he said "ZENIMAX??????? Disgusting." He then added, "Fallout 3 bought DOOM. Wow."
Now, a few minutes ago, he walked back those comments: "i just did an interview for Avault Podcast coming out friday. i am positive about the Zenimax deal. my initial reaction was harsh. sorry."
It's tough to defend Romero's position because, well, he doesn't make any actual arguments. While Twitter is often used as a PR/news outlet these days, it's more often just a tool for people to vent so eloquence or logic shouldn't always be expected.
Your Daily Blend of Entertainment News
Staff Writer at CinemaBlend.