Run'n'Gun Brings Wild West Fairytale Running To iOS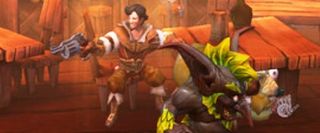 The mobile gaming scene, if you will pardon the pun, is overrun with runners these days. If you want your perpetual motion game to get noticed, it had better bring something new or unique to the party. Gaijin Entertainment might very well have exactly that in their latest offering, Run'n'Gun, and endless runner set in a fantasy world with light RPG elements and some pretty spectacular graphics on iOS.
Br> The first thing you'll notice about Run'n'Gun is that it's extremely easy on the eyes. You might be giving me a quizzical stare if all you've seen of the game is the above screenshot, but you have to keep in mind that said image was cropped down and blown up in order to go along with this story. Head on over to the game's iTunes page and you'll see exactly what I'm talking about. I'll just wait here...
See what I mean? It looks pretty lovely, no?
Set in a fairytale world where the Brothers Grimm meets the wild west, you discover that a gang of goblins have managed to rob the local bank. As the hero, your job is to catch up with those filthy critters and take back the town's loot. To do that, you'll need to run like the wind, as well as leap, slide and shoot your way through loads of fantasy settings.
And the best part? Run'n'Gun is a universal app for iPhone, iPad and the iPod Touch, and it's free to download. Here's a breakdown of the game's features.
-Choose among five heroes, each with unique features and skills.
-Run through picturesque landscapes inspired by Grimms' fairytales.
-Gun down goblins to collect coins and earn bonuses.
-Pick up missions at the tavern, then complete them for rewards.
-Race against friends by comparing records on Facebook.
-Easy and intuitive touch controls to jump, slide, strafe, aim and shoot.
Your Daily Blend of Entertainment News
Staff Writer for CinemaBlend.