S4 League Patch 24 Arrives With New Maps, Weapons, Events And Costumes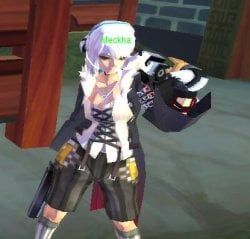 The game that's all about style and stylizing style has just received a new patch containing a lot of new stuff. In fact, there's an entire page dedicated to all the new stuff added in the patch. A couple of new weapons, clothing accessories and even a new chaser map has been introduced to the game's already expansive cache of content.
S4 League is sort of like the super J-Pop version of Gunz: The Duel. The clothing is outrageous, the weapons are equally as outrageous and the action is as stylized as you would expect it to be with a game that combines anime-style fighting with Matrix-esque bullet ballet.
Among all the new additions to the game, a new Buff Coin System has been implemented so that if players get killed they can spend a few coin to "buff up" a certain attribute, such as lucky shot or improved tracking. This is a great balance for players who always find themselves getting owned by the high level cash shop spenders.
A number of events are also underway, including Christmas events where you can earn a Little Rudolph. Need to learn more about the patch, the maps, the weapons and the costumes? Feel free to visit the Official Website.
Your Daily Blend of Entertainment News
Staff Writer at CinemaBlend.