SCI FI Goes Gaming With WCG GameQuest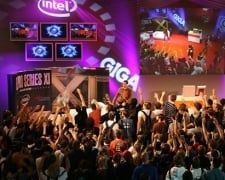 I've never been big on reality TV, and I've never been a fan of SCI FI's original movies. Anyone who agrees on those two premises wouldn't be too impressed with the announcement that cable television station, SCI FI, has announced a new reality TV program scheduled to air in 2009. However, given that it's about video games, I think those of us who are skeptics can safely say that this could be a very interesting combination.
""With two out of every three American households playing videogames, it's clear that this mainstream phenomenon is a perfect arena for the Channel's agenda of broadening the brand while celebrating imagination," said Dave Howe, SCI FI Channel President. ""The colorful and eclectic group of men and women competitors will simultaneously fit and completely shake up the ultimate gamer stereotype. We are thrilled to be partnering with WCG and Samsung for this fun and engaging show."
Yeah, well the premise of the show takes 12 competitors and pits them against each other in both real-life physical challenges, and gaming related challenges. It's an 8-episode elimination style show, and it will feature many brand-name games from top development studios. There's also up to $100,000 in prizes. The show will be produced by the World Gaming League and Granada America, in association with Samsung. Not that this means much, but the WGL at least knows gaming pretty well, so the show has a high-chance of not sucking.
"Since 2000, the WCG has been at the forefront of e-sports and as we've grown to 78 countries represented and 1.5 million participants, we've seen that passion for gaming knows no geographic or demographic boundaries," said H.S. Kim, WCG President. "As gaming continues to be the fastest growing sector of the entertainment industry, we are delighted that we can continue to lead this revolution and with SCI FI, Granada and Samsung as partners, bring this show to viewers. The world has never seen a gaming-related TV series like GameQuest and we are confident that it will appeal to all levels of gamers and even non-gamers."
The show is scheduled to air in the first quarter of 2009 for SCI FI. Be sure to stay tuned in with Blend Games for more news and info on all the latest happenings in the gaming industry.
Staff Writer at CinemaBlend.
Your Daily Blend of Entertainment News
Thank you for signing up to CinemaBlend. You will receive a verification email shortly.
There was a problem. Please refresh the page and try again.