Sarah Palin Undressed In New Android Game 2nd Base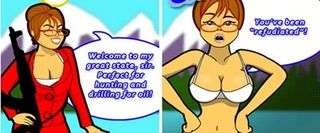 The Mailman Group has created quite a stir, and it's not because they're named after a group of individuals who visit your home while you're at work and your wife is sleeping, it's something a little more risqué. Apple has apparently banned a game called 2nd Base from the App Store not just because the objective is to score with lovely ladies (Leisure Suit Larry style) but mostly because one of the women you pick up shares a certain, caricaturized resemblance to Sarah Palin. However, the Android folk don't mind risky business and they've been more then happy to pick up the distribution of the game.
Basically, the stir comes over the fact that it's not just a cartoon version of former Alaskan governor, Sarah Palin, but it's more-so for the fact that the drawn doppelganger gets undressed. As you can see in the main image, there's very little left to the imagination.
Group head, Andrew Collins commented in the press release, saying…
Yeah I mean, the uptight hairdo, the busty figure, the red business suit and glasses, the Alaskan looking environment…I mean, it's all entirely coincidental.
2nd Base is currently available on the Android App store. You can play the game for yourself and see if it's really Sarah Palin the character is trying to emulate…if you dare!
Staff Writer at CinemaBlend.
Your Daily Blend of Entertainment News
Thank you for signing up to CinemaBlend. You will receive a verification email shortly.
There was a problem. Please refresh the page and try again.