See More Footage Of Hyrule Warriors Legends in Japanese Video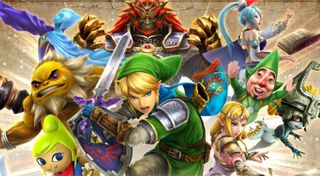 Some new gameplay footage has been released for the upcoming Nintendo 3DS version of Hyule Warriors Legends, which is set to arrive in North America at the end of March later this year. The gameplay footage clocks in at just under 20 minutes and covers multiple maps and features.
Game Informer notes that the gameplay footage is being narrated by Team Ninja producer Yosuke Hayashi and voice actress Ruriko Aoki, as they walk gamers through the gameplay features and some of the new additions to the 3DS version of Hyrule Warriors.
The video runs through quite a bit of gameplay, as we see Link in white chainmail armor running through enemies and hacking and slashing them down with ease. We see a brief sub-boss battle before Link makes his way through a brief dungeon before heading back outside to battle a main boss, which he takes down with ease. It's funny that as he's hacking and slashing on the boss there are audible chimes to compliment the hits.
The video doesn't just focus on Link, though. We also get to see Impa in action, as she battles enemies with a very large sword. Just like the Wii U version of Hyrule Warriors, each character has their own battle style and fighting maneuvers for battling enemies in the game.
Viewers briefly get to see how well Impa plays on the Nintendo 3DS and what some of her attacks are like with the limited amount of time she has in the video. Unfortunately, she meets her end late into the video in a rather silly way to some harmless looking enmies, causing some laughter from the camera crew in the studio.
Hyrule Warriors Legends is one of several big games that Nintendo has planned for release throughout 2016 for their platforms. Preceding the release of Hyrule Warriors on the 3DS, Nintendo has Fire Emblem: Fates lined up for a launch in February. There's Bravely Second: End Layer set for release later in the year, along with two new Dragon Quest games and Sonic Boom: Fire And Ice.
The Wii U is also scheduled to get the new-gen release of The Legend of Zelda, which was originally supposed to be a fall release in 2015. However, development on the title ended up seeing it pushed into an unknown slate in 2016.
While the Wii U struggles with big exclusives, it appears as if Nintendo isn't having the same problem getting games out consistently for the Nintendo 3DS. Gamers will only have to wait another two months before they can get their hands on Team Ninja and Koei Tecmo's hack-and-slash action game based around the musuo gameplay of Dynasty Warriors.
Hyrule Warriors Legends has not released yet in Japan, but it will do so later this month starting January 21st. From there, it will be a delayed release in other regions of the world, but Europe, Eurasia and North America will get the game starting March 25th, 2016.
Staff Writer at CinemaBlend.
Your Daily Blend of Entertainment News
Thank you for signing up to CinemaBlend. You will receive a verification email shortly.
There was a problem. Please refresh the page and try again.