Sherwood Dungeon MMO Celebrates Six Years Without Corporate BS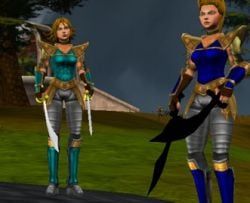 It's not often that people can spell success in their lives simply based on [honest] hard work and providing a quality product, but Maid Marin Entertainment managed to do just that. Simply by word of mouth and none of the corporate marketing BS associated with most products shoved down our throats, Sherwood Dungeon has managed to attract more than a million players in its six year life span.
Maid Marian founder, Gene Endrody commented in the press release, saying…
What's amazing is that there were no ad campaigns, no marketing schemes, no viral content thrown around out there on the web to help elevate the success of Sherwood Dungeon. It's quite a testament to the product when a game can win over players as a small project simply by word of mouth.
The game also incorporates skill-based combat with twitch-reactions required for combat and PvP, deviating its mechanics from games where no matter how much skill you infuse into your tactics, a player 20 levels higher will still wipe the floor your buttocks.
Gamers interested in this free-to-play MMO that's not just another theme-park game can do so by visiting the Official Website.
Your Daily Blend of Entertainment News
Staff Writer at CinemaBlend.