The Silver Lining: Episode 4 Now Available For Free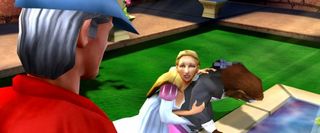 Fans of the popular point-and-click adventure series King's Quest from Roberta Williams will be pleased to know that the indie-project aimed at reviving the series is still moving forward. Phoenix Online have announced that Episode 4 of the Silver Lining is currently available as a free download. That's right; it means there's no need to scurry off to the nearest torrent site to grab the latest episode...unless you really like scurrying off to torrent sites for some reason.
A teaser for the game's latest adventure is as follows…
The game's latest episode is available either as a single episode download or available as a download pack. You can grab the single episode for only 600MB or you can get the entire four-episode series together for 1.7GB. The entire pack is actually pretty small compared to today's standards of games, so even if you have an older PC or laptop you should be able to run the game fine.
For those of you still scratching your head over this whole King's Quest nonsense, just know that it was a series created by Roberta Williams and her husband that become popularized during the golden age of gaming, as a story-driven adventure tale following a generation of a family. There was magic, mysticism and mayhem that all ensued and it's one of the long-time endearing series of the point-and-click adventure genre.
Phoenix Online Development has appropriately revived the series with moderate success and the team plans to close out the multi-episode story-arc with Episode 5, which will be released for PC and Mac in 2012.
You can download Episode 4 of The Silver Lining right now or learn more by visiting the Official Website.
Staff Writer at CinemaBlend.
Your Daily Blend of Entertainment News
Thank you for signing up to CinemaBlend. You will receive a verification email shortly.
There was a problem. Please refresh the page and try again.