Skillz: The DJ Game Lands Top Spot On The App Store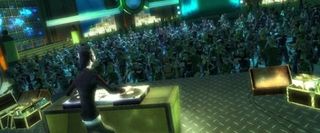 Activision didn't completely ruin the music genre. There are still some good games out there that aren't Guitar Hero or DJ Hero. In fact, fans of the genre seem to have fallen in love with a brand new IP for mobile devices called Skillz: The DJ Game and it has managed to claim the top spot within the genre on the app store.
Joe Gilbertson, Co-founder of Playpen Studios commented in the press release about the success of the game, saying…
Much like Activision and Harmonix's popular Hero series, gamers spin, scratch and mix songs by popular artists to get the crowd moving and dancing to your grooves. The gameplay is very similar to the Hero games and Playpen Studios wanted to ensure that the music genre lived on, despite being milked dry by EA and Activision.
There are a total of 25 songs available on the game from artists such as Kid Cudi, Diplo and People Under The Stairs. What's more is that Playpen has some DLC planned for the game, but nothing milk-worthy like Activision's $15 play-packs that would only include a few songs. In fact, you can pick up a digital copy of SkillZ: The DJ Game from the app store for the iPad for only $5.99, which isn't bad at all.
You can learn more about the game and its features, as well as check out a few videos and screenshots by paying a kind visit to the Official Website.
Staff Writer at CinemaBlend.
Your Daily Blend of Entertainment News
Thank you for signing up to CinemaBlend. You will receive a verification email shortly.
There was a problem. Please refresh the page and try again.