Sniper Elite 4 Will Be Coming To Consoles And PC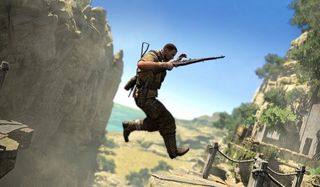 The nice thing about a series like Sniper Elite is the fact that nobody can whine about you camping out, waiting for the perfect shot. That's the entire point of the game and, with the recently announced Sniper Elite 4, you'll be able to set up camp to your heart's content.
The team at Rebellion yesterday announced the impending arrival of Sniper Elite 4. While no date was provided, we know to expect the game sometime in 2016 for PC, Xbox One and the PS4.
According to the announcement, the game is set immediately following the events of Sniper Elite 3, with players once again taking on the role of Karl Fairburne, a soldier with impeccable aim. Heck, you might even say he's an elite sniper. You'll be doing a bit of a European tour once again, with SE4's campaign mostly centered on Italy as Fairburne aims to support a building resistance.
Rebellion is promising the largest maps in the series so far, as well as a game that runs at a crisp 1080p. Outside of the solo campaign, you'll also be able to enjoy cooperative firefights, as well as multiplayer modes that will pit your sharpshooting skills against friends and enemies alike.
You can check out the announcement trailer below for a visual rundown of what you can expect out of Sniper Elite 4.
In the trailer, we get a look at some of the locations players will be sneaking through in Sniper Elite 4, on the lookout for the perfect perch. From Italian villages to heavily-guarded bridges, you'll be crawling through all sorts of beautiful locations on a quest to do some ugly work.
For those unfamiliar with the Sniper Elite series, it's made something of a name for itself thanks to some extremely brutal kill cam shots. After pulling the trigger on your prime target, the game slows down and lets you admire your work through x-ray vision, watching as the bullet either goes clean through, bounces around a bit or pulverizes some especially sensitive areas. It makes for healthy dose of nasty in an otherwise pretty game. Well, pretty in a visual sense. There's nothing pretty about war, soldier.
As stated above, the main appeal is the fact that, unlike most shooters, Sniper Elite lives up to its namesake and keeps the focus on precise shooting. There may be a sniping level in a Call of Duty or Battlefield, but your typical FPS is focused on running and gunning most of the time. And as for multiplayer, some folks prefer to think of sniping as a form of cheating rather than a viable tactic. Those folks are, of course, completely wrong.
Your Daily Blend of Entertainment News
Staff Writer for CinemaBlend.