Sniper Elite: Nazi Zombie Army 2 Release Date Is Halloween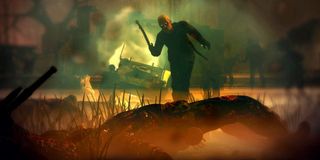 Rebellion has revealed that Sniper Elite: Nazi Zombie Army 2 will have a very appropriate PC release date of October 31st. To tide fans over until Halloween, the developers released a new trailer as well as screenshots.
"We wanted to twist the occult horror from Nazi Zombie Army into something more nightmarish, more insane," Rebellion CEO Jason Kingsley said of the game's new assets. "There's been a huge focus on making the levels more intimidating and the enemies even more grotesque and challenging. The first game really tested players' abilities to work as a team in co-op, but also allowed solo gamers to hone their skills by multiplying the number of zombies in the campaign. Make no mistake, if you're looking for shooter that puts your back to the wall, Sniper Elite: Nazi Zombie Army 2 has got you covered."
Nazi Zombie Army 2 depicts an alternate version of World War 2. Hitler has unleashed an undead plague on Europe to turn the tide of the war. Players take on the role of an elite squad trying to put a stop to the outbreak. They'll travel into Berlin to acquire the ancient artifacts that were used to summon the undead in the first place.
The sequel retains many of the signature elements from the original game, like the four-player co-op, sniping, and the X-ray kill cam. The new campaign will feature new enemies such as the Fire Demon and Summoner. Players can keep hordes of zombies at bay with defensive measures like traps and machine gun turrets.
Nazi Zombie Army 2 is currently available for pre-order through Steam and Rebellion's Gamestore. Pre-order customers will get 20% off the game's $14.99 price.
Rebellion has only officially announced a PC release for Zombie Army 2 thus far. However, they previously said that they could bring the game to the PS4 and Xbox One as well, though
"Now there's the possibility," Kinglsey said last month. "Before there wasn't really the possibility of self-publishing, so you couldn't even begin to think about it. You had to go via a third party and do a deal with somebody else. It made it less and less attractive."
Image 1 of 4
Image 2 of 4
Image 3 of 4
Image 4 of 4
Staff Writer at CinemaBlend.
Your Daily Blend of Entertainment News
Thank you for signing up to CinemaBlend. You will receive a verification email shortly.
There was a problem. Please refresh the page and try again.