Sonar 5.1 Championship Gaming Headset Announced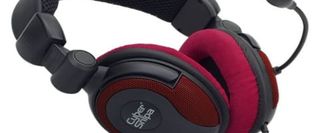 If knocking off opponents with the deafening roar of a Dragonuv sniper rifle in 5.1 Dolby Digital Surround Sound just isn't enough for you then maybe you're the kind of gamer who only appreciates the kill when it's coming from 5.1 Dolby Digital Surround Sound championship edition headset.
Cyber Snipa announced today that the Sonar 5.1 Championship Gaming Headset will offer gamers the latest in high-tech, multi-speaker, surround sound support with up to four speakers in each earcup, allowing for the most hardcore gamers to hear even the tiniest pin drop from a kilometer away… assuming you're a noob camper who hides in an alleyway with your camo gear and hay-covered helmet.
In addition to all the fancy hearing enhancements, the Sonar 5.1 Headset also comes fully equipped with a noise-cancelling microphone and memory foam padding for a comfort-adjusted fit. Sounds like my kind of gaming gear.
The full features of the Sonar 5.1 Championship Gaming Headset can be viewed below. The set is expected to become available this month in North America for the suggested retail price of $79.99. For more info feel free to visit the Official Website.
Features of the Sonar 5.1 Championship Headset include:
• 8 individual drivers to true multi-directional audio response
• Robust headband construction with mesh padding for improved airflow
• Circumaural memory foam and velour cushions for extended gaming comfort
• Extra long flexible boom mic with noise cancelling
• 3 m USB cable with in-line multimedia control
• 3D positional audio software
Staff Writer at CinemaBlend.
Your Daily Blend of Entertainment News
Thank you for signing up to CinemaBlend. You will receive a verification email shortly.
There was a problem. Please refresh the page and try again.