Soulcalibur: Unbreakable Soul Now Slicing Up iOS For Free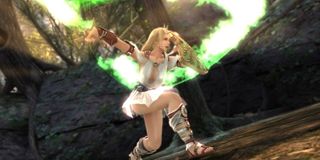 The stage of history is set as a cast of new warriors prepares to do battle in a never-ending struggle for the Soul Edge as Bandai Namco announces the launch of free-to-play iOS card-based brawler, Soulcalibur: Unbreakable Soul.
For the record, that entire intro came from me, not the publisher. I just pulled some random jibba-jabba from memory based on the ridiculous intros from previous games, but it sounded authentic, right? It's all good-humored fun, though, as nobody actually plays a Soulcalibur game for the "story." You play them to beat the stuffing out of your enemies with all manner of sharp, pointy and blunt weaponry, period. Honestly, I don't even know if these guys and gals are still fighting for control of the mystical Soul Edge, but that tends to be their motivation in previous games
With Soulcalibur: Lost Swords set to bring the free-to-play fight to the PlayStation 3, mobile gamers no longer have to feel like they're being left out on the action now that Unbreakable Soul is ready to roll, offering up a simplified control scheme, loads of playable characters and weapons and several modes to dig into when you're on the go.
As you may have noticed in the trailer above, SoulCalibur: Unbreakable Soul is not your traditional fighting game. Instead, this offering allows players to wage war utilizing collectable cards, creating decks and combos specially designed to take down each of your opponents. It's playable on the iPhone, iPad and iPod Touch and, assuming you just want to skip straight to the chase, you can download it off of iTunes (opens in new tab) right this very second at no charge.
"In Soulcalibur: Unbreakable Soul, players will experience a high-fidelity 3D world of mind-blowing combat, all with the touch of a single finger," reads the announcement from Bandai Namco. "The revamped battle system melds ease of use with lighting action. This original title uses a cutting edge engine fully optimized for iOS to deliver Soulcalibur fans amazingly smooth gameplay and gorgeous graphics.
Players will earn new weapons and avatars to use in battle through diving into the game's various modes while following Cassandra and the Edge Master "in search of fragments of the dreaded blade, Soul Edge." See! I was totes right about the storyline.
While playing, you'll be able to collect more than 150 avatars and 200-plus weapons to make your deck the best it can be. You'll also be able to create new moves by combining cards, and unleash the five elements by crafting combos based on fire, water, wind, light and dark. There's also a PvP mode, for those looking to wage war against friend and foe alike.
Staff Writer for CinemaBlend.
Your Daily Blend of Entertainment News
Thank you for signing up to CinemaBlend. You will receive a verification email shortly.
There was a problem. Please refresh the page and try again.