SpeedTree Empowering Foliage In Empire: Total War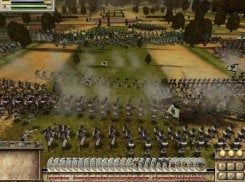 IDV's SpeedTree middleware suite has been around for a long time, with the company providing many leading developers with the edge over the competition using state-of-the-art foliage and tree implementation technology. Their latest endeavors see the SpeedTree tech empowering the environments of Sega's upcoming Empire: Total War game.
Developed by Creative Assembly (the same folk working on the upcoming console RTS, Stormrise and a yet unannounced console game for the Xbox 360/PS3), Empire: Total War is the latest in a famed and highly respected franchise.
"SpeedTree was licensed to bring visual richness to the title, as well as to provide convincing visual barriers, natural obstacles and strategic hiding places," said Gary Dunn, Managing Director, European Development, Sega Europe. "Our focus on creating a compelling gaming experience, combined with the challenges and opportunities that faced the empire builders of this era, make this a particularly excellent game."
So what does SpeedTree do? Well, it allows for speedy implementing of tree and foliage within game environments. Neat middleware suite, eh? There's even wind and physics effects that work with IDV's technology. You'll definitely see it all at work in the upcoming Empire: Total War, which is due out on March 4th (tomorrow).
You can learn more about IDV and their tech by visiting their Official Website. You can also learn more about Empire: Total War by visiting the Official Website. For more gaming news, info and updates, be sure to stay tuned in with Blend Games.
Your Daily Blend of Entertainment News
Staff Writer at CinemaBlend.