Stained Very First Gameplay Trailer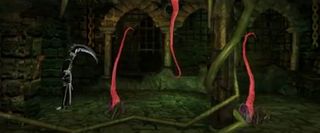 RealAxis Software released the very first gameplay footage for their upcoming, action-adventure side-scrolling game, Stained. It's a short and sweet trailer giving you plenty of action, combat and platforming.
The game is basically about a kingdom whose king is chased out of the castle, evil forces have taken over and players will assume the role of a mysterious, scythe-wielding creature who does the one thing that the castle absolutely forbids: breaking the stained glass windows...hence the name. Once the windows are broken the castle comes alive and it's only aim is to kill. Players will have to venture throughout the expansive castle and uncover its secrets and mysteries while battling foes of a mythical nature and using the scythe to both kill foes and scale the environment.
As the trailer went on it looked more and more interesting. The gameplay in some of the segments looked kind of intense and it's nice to get a throwback game to the CastleVania era just with updated graphics and visual effects.
You can look for Stained to launch for PC soon. For further information on the game be sure to pay a visit to the Official Website.
Staff Writer at CinemaBlend.
Your Daily Blend of Entertainment News
Thank you for signing up to CinemaBlend. You will receive a verification email shortly.
There was a problem. Please refresh the page and try again.