StarCraft 2 Name Changes Now Free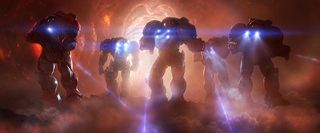 Are you sick of your character name in StarCraft 2 or think it's hopelessly out of date? Well, we've got some good news, MittRomney2008 and ChocolateRain: Blizzard is currently letting players change their names for free for a limited time in the real-time strategy game.
The company had originally planned to implement a paid name change service. However, they put this feature on the backburner.
"The small percentage of players who used the free name changes that we previously offered, the introduction of Battle.net Battle Tags, careful consideration of how character names will work with Battle Tags in the future, and our increasing focus on completing StarCraft II: Heart of the Swarm all contributed to us deprioritizing the Paid Character Name Change feature," Blizzard said on Battle.net (via VG247. "The fact that we didn't keep you updated when we deprioritized the feature was a mistake, and we aim to do a much better job of keeping you informed in the future."
They still plan to release a paid name change feature in the future. They expect to do so after the launch of Heart of the Swarm. Swarm, the first expansion to SC2, is expected to launch later this year. However, in the meantime, they're going to let every player account change their name. They'll offer another free change when player clans are implemented.
You can change your name by logging into Battle.net Account Management, and then clicking StarCraft 2 on your list of games. There should be a button at the bottom of the screen that says "Character Name Change." After clicking that, log into the game and fill in your new name.
Staff Writer at CinemaBlend.
Your Daily Blend of Entertainment News
Thank you for signing up to CinemaBlend. You will receive a verification email shortly.
There was a problem. Please refresh the page and try again.