Stranglehold, Short Film Contest And New Trailers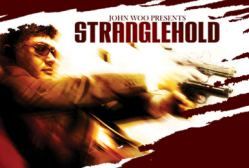 John Woo's Stranglehold may not be directed by Woo, or may not have been written by Woo, nor did Woo actually design any aspect of the game, but there is a short film contest so you can be just like Woo. Stranglehold is just a pawn in the marketing game here, so after you read about the official contest you can watch some new trailers.
No gamer would really care about a film contest unless there was something gaming related, so if you're a gamer who just wants to view the trailers you can drop on down below. Now if you actually think you can win the $25,000 and free trip for two to Midway's Chicago studios for an interview that will appear on Spike TV, along with the short film, then keep on reading.
Amateur film makers will have to make a short movie in true spirit of John Woo. In fact, contestants are encouraged to make the most authentic John Woo-style movie as possible. "Stranglehold's cinematic action is directly inspired by John Woo's acclaimed action films and their unique style," said Mona Hamilton, vice president of marketing, Midway Amusement Games. "We've created a premier collaboration with Spike TV and Fox Interactive Media's MySpace and IGN Entertainment sites that gives fans the opportunity to put their creativity to the test with a short film judged by John Woo himself."
Entries to Stranglehold's short film contest must be no longer than two minutes and thirty seconds in length and will be judged using three specific criteria:
• Overall Quality - 40% - includes cinematography, editing, sound, image quality and technical production
• Strength of John Woo Homage - 40% - includes extent of homage, quality of homage and use of Woo signature techniques
• Creativity - 20% - includes screenplay, acting and overall impression
For further information regarding entry for the contest or clarification for entry, you can visit the Stranglehold's Short Film Contest MySpace Page. And as promised, the trailers are below. Enjoy.
Staff Writer at CinemaBlend.
Your Daily Blend of Entertainment News
Thank you for signing up to CinemaBlend. You will receive a verification email shortly.
There was a problem. Please refresh the page and try again.