Street Fighter: Dudley Canned For Cammy The Ho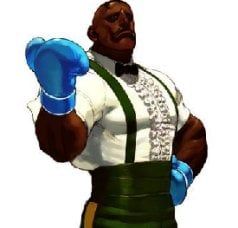 Hey, don't look at me. I'm not the one who made the statement and I'm not the one saying she is a ho. Then again, I'm not justifying that a down-jacket, military boots and a thong leotard is appropriate attire for a fighting tournament. Read on to find out how this whole topic even came about.
Sinan Kubba from TGR brings up an issue that makes you wonder: Is good character balance less important than a fleshy display of female buttocks? Realistically, that's what the article boils down to. It also boils down to who represents Britain better: Leotard-thong wearing Cammy or gentleman, fisticuff fighter Dudley?
Sinan also brings up the very racy topic of why Cammy is considered a "ho" and how it ultimately affected the decision by Capcom's Street Fighter IV producer, Yoshinori Ono, to axe the very British boxer, Dudley, in place of more "familiar" characters. I'm not sure I agree that Dudley would have been a better character choice in replacing Cammy, but I think that's not a decision left up to writers in the industry.
Realistically, this comes full circle back to the gamers. Should Dudley have been axed for the less popular but more recognized Balrog or Cammy? Even more-so, let's not forget that Cammy actually isn't one of the original Street Fighter II characters; Cammy, Fei-long and T-Hawk were from the Championship Edition of SFII. They were add-on characters, if you will. I should remember this well, considering that they snuck in a copy of that awful Van Damme movie with the controller and game.
Anyway, you can poll in your vote below, and remember to stay tuned in with Blend Games for more news and info regarding all things gaming.
This poll is no longer available.
Your Daily Blend of Entertainment News
Staff Writer at CinemaBlend.