Street Fighter IV Officially Announced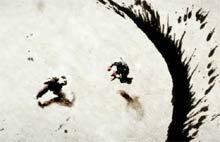 The next sequel in the hit fighting series is official, and that's all we know. It's been a decade since Street Fighter III was released, so this is a mega ton announcement. Moreso than say, We Love Golf being a golfing game. Of course, frothing fans of the fighter had been hoping for awhile that the next game in the series was close at hand. While we have absolutely no details on the game at the moment, expect it to be a new Street Fighter game. I mean, other than what kind of online support and character list…what's to know?
For the last week the official Capcom community website has been counting down, and that ended with a bit of art showing Ryu and Ken fighting. Street Fighter is the one arcade game I played more than any other, although Popeye gave it a run for a while. I spent my walks home from school stopped at the local convenience store pumping the machine full of quarters that I saved from skipping lunch, or making my own while my parents slept in the mornings. Yeah, I loved SF enough to make my own lunch as a young lad.
In semi-related news, Street Fighter 2 Turbo HD is being delayed to tweak the online play. Sad news on the surface, but I'd much rather have a refined online experience with the game. As soon as news on Street Fighter IV is made available, we'll pass the knowledge on to you. For now, watch the brief teaser clip Capcom has made available below. Make no assumptions on the stylized look of the trailer, this probably won't end up being Street Fighter IV: Smoke And Splatter. All I'm hoping for is some 2D fighting with 3D backgrounds and cell shaded graphics. Viewtiful Joe and Okami prove that Capcom has a firm handle on the aesthetic. The watercolor effect seen in the trailer would be a nice additional touch.
Your Daily Blend of Entertainment News
Staff Writer at CinemaBlend.