Stronghold 3 Delayed To Summer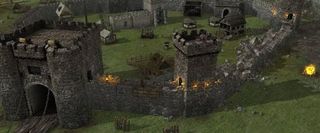 SouthPeak Interactive has revised the release window for Stronghold 3. They now expect the strategy game to debut on the PC "later this summer."
"We want to make sure fans get the game they want and deserve," said Stronghold 3 designer Simon Bradbury. "Although some may be disappointed the game isn't coming out as soon as they expected, we're sure they won't be disappointed with the new elements we're adding to the franchise, to make this the best Stronghold yet."
Stronghold 3 puts players in charge of their own kingdom. They must develop their lands and defend it from any invaders. Some of Stronghold 3's new features include night-time battles, Havok physics, and a weather system.
Staff Writer at CinemaBlend.
Your Daily Blend of Entertainment News
Thank you for signing up to CinemaBlend. You will receive a verification email shortly.
There was a problem. Please refresh the page and try again.