Super Smash Bros Dirty Brawl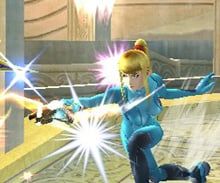 You're dirty, and now Super Smash Bros Brawl has gone ahead and proven it. It looks like some unlucky Wii owners are getting home to find out their copy is not playing. The sadness coming from these poor people makes me weep, so I'm here to try and help you out. We want you to join us in a Brawl, and that means getting your dirty Wii all fixed up.
It looks like the little problem Japanese owners were having with Brawl has traveled across the ocean to our shores like a bad infestation of syphilis. If your Wii has a little mucky muck on the lens it can keep the game from running. This makes sense, but for some reason Brawl is particularly susceptible to the issue. Rather than put your monkey paws all over the console as you pound your chest in agony, you'd best be getting it out to Nintendo for repair.
You can fill out the repair form at the official website and Nintendo will take care of the rest. Shipping and repair are free, but no clear timetable is given. So you uh…might be Wii-less for awhile. Then again, you're going Brawl-less. You take the good, you take the bad, you take them both and there you have…
Your Daily Blend of Entertainment News
Staff Writer at CinemaBlend.