Syndicate Successor Satellite Reign Will Launch In August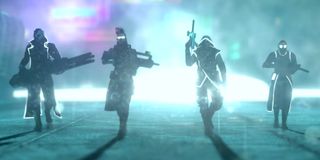 Satellite Reign will be exiting Steam Early Access soon. Developer 5 Lives Studios has announced an August launch date for the cyberpunk strategy game.
A new trailer from the studio confirms that PC, Mac and Linux users will be able to play the full version starting on August 28th. The game will be available through GOG (opens in new tab) and Humble Store (opens in new tab) in addition to Steam:
In between now and Satellite Reigns' launch date, 5 Lives will be focused on removing bugs and polishing up the game. The newest update, Patch 0.8, completed the game's features. Steam Early Access owners will find a new opening sequence for the game that sets up the story. Furthermore, critical mission information will now be delivered over voiceover instead of just text.
The biggest addition in this patch, though, is the last chapter of the game:
Satellite Reign, previously funded through Kickstarter, depicts a future in which mega-corporations wage war on each other. Players command a group of four agents and use them to snuff out the competition. Each agent can be customized to suit different playstyles. The game's open-world missions are designed to be accomplished in more than one way. You can use brute force, stealth, and propaganda to accomplish your goals.
The combination of real-time strategy, cyberpunk and open-ended strategy makes it easy to draw comparisons between Satellite Reign and Syndicate. The core team at 5 Lives includes some veterans of the Syndicate series. For example, Misk Diskett was director on Syndicate Wars. Russell Shaw, composer for past Syndicate games, scored the soundtrack for Reign as well.
One thing that sets Satellite Reign apart from the Syndicate games is the scope of its open-world. Each mission isn't confined to its own level. Instead, players operate in a large living city with civilians and police that react to their actions. They can sabotage or modify the power grid, communication networks and security systems of the city to aid their objectives.
If you don't want to wait until August 28th, you can still buy the early access version of Satellite Reign for $29.99. You can then update to the full version on launch date for no additional charge.
Staff Writer at CinemaBlend.
Your Daily Blend of Entertainment News
Thank you for signing up to CinemaBlend. You will receive a verification email shortly.
There was a problem. Please refresh the page and try again.