TERA Online Pre-Orders Gain You Early Access Into The Beta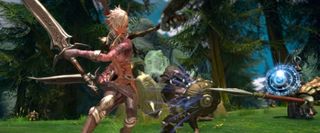 En Masse Entertainment announced today that North American gamers can pre-order TERA Online right now for $49.95, which will automatically gain you early access to the game's closed-beta sessions starting later this month.
What's more is that pre-ordering will also enable you get into the official game with a week-long head-start, allowing you explore the land and create your ideal character before the game launches on May 1st.
Chris Lee, Vice President of Publishing at En Masse Entertainment commented in the press release, saying...
No doubt, TERA Online doesn't rely on typical point-and-grind gameplay that we've become accustomed to from titles such as World of Warcraft, Allods Online, Star Wars: The Old Republic or Age of Conan. Instead, BlueHole Studios' next-gen MMO focuses on the kind of gameplay that Lee describes above: players will be in complete control of their characters and skills and auto-targeting is not an option.
What's more is that in addition to the game following in the footsteps of games like Vindictus and Dragon Nest, TERA Online breaks away from the herd with truly amazing visuals and top-notch graphical fidelity. The game really does stand head and shoulders above most other games on the market including those big-budget AAA titles found on game consoles.
Collector's editions of the game are also available for pre-order, one in a boxed format and the other in a digital format.
You can pre-order the game right now or learn more by paying a visit to the game's Official Website. For more info on the game's CBT sessions and dates be sure to check them out below.
• Closed Beta Test 1: February 10 – 12
• Closed Beta Test 2: February 24 – 26
• Closed Beta Test 3: March 9 – 11
• Closed Beta Test 4: March 23 – 25
• Closed Beta Test 5: April 6 – 8
• Open Beta Test: April 19 – 22
• Head Start: April 28 – May 1
Your Daily Blend of Entertainment News
Staff Writer at CinemaBlend.
Your Daily Blend of Entertainment News
Thank you for signing up to CinemaBlend. You will receive a verification email shortly.
There was a problem. Please refresh the page and try again.