TGS 07: Devil May Cry 4 Trailer, With Gameplay Footage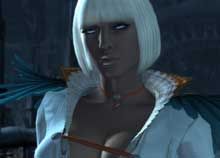 Who knows what else Capcom has in store for us this year at TGS. Will Dead Rising 2 be announced? Possibly, although they've teased us with some sort of showing in the coming weeks with mind-blowing announcements. For now, let us lose our heads over new Devil May Cry 4 goodness. I'm a sucker for action games like DMC, and I'm looking forward to having this series added to my 360 collection.
This time around, the trailer we have shows off a ton of gameplay footage. OK, so maybe it only shows off a fraction of a single minute of gameplay…but it's better than the half-second from the last trailer. DMC4 is looking good, and while players won't be playing as Dante throughout the game still has a familiar feel. The new combat system, featuring Nero's possessed hand of death, looks quite impressive. We can't wait to put the beat down on our enemies.
Still, what is up with all the crappy music in trailers lately? Uncharted had that horrid music that made it sound like a fan made trick video. This one is typical of what you expect from DMC, but I have a hard time getting around the distraction of being growled at for a minute. In any case, the video is below for you to enjoy. And while you're at it, check out the hi-res screenshots in the image gallery.
Image 1 of 10
Your Daily Blend of Entertainment News
Staff Writer at CinemaBlend.