Tales Of Pirates II: Dream City Marks Fourth New City In The Game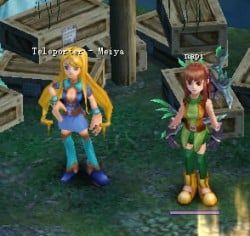 The team over at IGG sent out a press release that talks a little bit about the new city in the upcoming sequel to their popular, free-to-play MMORPG, Tales of Pirates. The name of the new city is called Dream City, and like all things RPG the city seems all glossy and tropical on the outside but has some deep, high-level mobs on the inside.
Some of the tidbits of information that were released for the game talk about the new equipment slots and how there will be more than 50 NPCs available to help out the noobsters…
Sounds intriguing. I'm sure Tales of Pirate II fans looking forward to the upcoming MMO are amped up for the new city as well. Too bad you won't be able to play it for a while…the game is still undergoing closed beta testing with select gamers. However, when the game does go open beta it will be free-to-play just like its predecessor. For more info be sure to take a spin over to the main Tales of Pirates II Website.
Your Daily Blend of Entertainment News
Staff Writer at CinemaBlend.