Tales Of Pirates And Wonderland Online Pics And Updates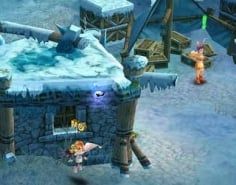 Two games for the price of one is what we're offering here; screenshots for the new Ice map in Tales of Pirates and item details for the a fan-favorite weapon in Wonderland Online. Keep reading to find out what's in store for middle level players in WLO.
The development team of Wonderland wanted to inform players about the importance of the bow, and released a sort of statistical guide to the bow-class and its attributes. You'll find the comprehensive guide to the bows below.
In addition to learning about putting arrows in bad guys, IGG released some new screenshots of the Ice Land in Tales of Pirates, which now compliments the desert and forest lands in the game. You can check out those new screens below.
For more info on these free-to-play titles, drop by the Official Wonderland Online Website or the Official Tales of Pirates Website. And as usual, you can stay tuned in with Blend Games for further updates and news on all your favorite games.
Wonderland Bow Types:
Short Bow ATK+3 SPD+1 Level 4
Great Bow ATK+4 SPD+2 Level 6
Pretty Bow ATK+5 SPD+3 Level 8
Hunter's Bow ATK+5 SPD+3 Level 10
Long Bow ATK+7 SPD+5 Level 12
Great Long Bow ATK+8 SPD+6 Level 14
Pretty Long Bow ATK+8 SPD+6 Level 16
Meniscus Bow ATK+11 SPD+9 Level 20
Wing Bow ATK+12 SPD+10 Level 22
Sun Bow ATK+13 SPD+1 Level 24
Cursed Crossbow ATK+14 SPD+12 Level 26
Blessed Bow ATK+10 SPD+18 Level 28
Crescent Bow ATK+10,SPD+10,+24% Critical.
Related Skill: Arrow Rain
Where to learn: Calcutta
Quest: Mysterious Indian elder
Description: AOE. Kills all targets by raining down a barrage of countless arrows. It's useful when doing quests or collecting dropped items.
Image 1 of 4
Your Daily Blend of Entertainment News
Staff Writer at CinemaBlend.