Tales Of The World: Radiant Mythology Ships For PSP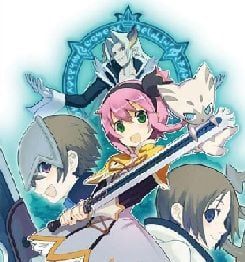 Tales of the World: Radiant Mythology is another adventure game for the PSP that's bound to change some perspectives on Sony's handheld (in a positive way, of course). I guess it's funny that the PSP gets much better games than the DS, yet it just can't catch up to Nintendo's little mini-game machine...just like the PS3 and Wii.
Anyway, Namco Bandai has announced that this original adventure title has shipped to retailers and will be readily available for the suggested retail price of $39.99. "Tales of the World: Radiant Mythology sets a new standard for handheld RPGs with its engrossing gameplay and customization options that put the player in control of the story and its characters," said Makoto Iwai, Executive Vice President and COO, Namco Bandai Games America. "Built from the ground up for the PSP system, players now will be able to enjoy deep RPG action anywhere with the game's easy to manage quest system, colorful graphics and huge roster of playable characters."
What's really cool about this game is that players can finally customize the main character. So now it will appeal to everyone who wanted an adventure game, but with the customization features of the protagonist, like Grand Theft Auto...yet who didn't want prostitutes and cop chases filling up their game time. Anyway, you can check out a list of features for TotWRM below, or visit Namco Bandai's Official Website for more information and details.
Tales of the World: Radiant Mythology Features:
• Tales of the World: Radiant Mythology lets players create and customize the game's main character for the first time in the series.
• Players can choose from up to 10 classes, 1,000 different weapons, armor and items as well as options for face, hair and voice to put their own mark on the captivating storyline.
• In their quest to save the World Tree, players will encounter 19 fan-favorite characters from previous games in the Tales series including Lloyd Irving from Tales of Symphonia and Luke fon Fabre from Tales of the Abyss.
• Players can recruit many of these characters as well as other NPC mercenaries into their party to fight alongside them in battle.
• As they explore the world of Terresia, players will experience the game's real-time free roaming battle system as they embark on 300 unique quests.
• Turning each encounter into a heated battle for survival, the unique battle system lets players unleash melee, ranged and magical attacks and manage their party in real-time to dispatch the enemy.
Staff Writer at CinemaBlend.
Your Daily Blend of Entertainment News
Thank you for signing up to CinemaBlend. You will receive a verification email shortly.
There was a problem. Please refresh the page and try again.