A Tattoo Parlor Is Suing NBA 2K16 Publisher, Get The Details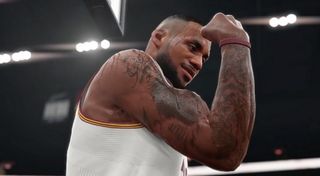 Various artists working for Solid Oak Sketches, a tattoo parlor, are suing 2K Games for $1.1 million for copyright infringement. How did they come to that figure and how is it copyright infringement? Well, because the tattoos they inked on NBA players appear in 2K Games' NBA 2K16.
Eurogamer picked up the story from The Hollywood Reporter, where it's detailed how Solid Oak Sketches has come to the conclusion that 2K Games owes their artists big for the work that's on display in NBA 2K16. According to the article, a previous case involving tattoo artist Chris Escobedo saw him walking away with $22,000 in a suit against THQ for a tattoo that appeared on an MMA fighter in UFC Undisputed 3.
Solid Oaks is using Escobedo's case as precedence for their suit against 2K Games, which involves tattoos on the players LeBron James, Kobe Bryant, Kenyon Martin, DeAndre Jordan and Eric Bledsoe, all of whom are in NBA 2K16. The Hollywood Reporter breaks down how they came up with the figures for their claims, writing...
I don't know how they reached that value exactly, but one of the lawyers recalled the appearance of Lebron James in NBA 2K14, noting that since he was prominently featured on the cover, the tattoos were very well the face of the cover as well. In result, they escalated the fine to $819,500. The company has opted to offer 2K Games an out by allowing them to use the tattoos in future games for a fee of $1.1 million.
Casual observers and hardcore gamers are not very pleased with the news about this suit. One of the common questions that pop up is: will their be residual royalties paid to tattoo artists for every time that the NBA players are broadcast on national television or appear in commercials?
That's actually a really, really good question. If Solid Oak Sketches are able to get rewarded for copyright infringement from a video game, what exactly makes it any different when those same players appear on television? And in that regard, shouldn't television broadcasters have to pay a fee as well whenever certain athletes appear on national TV?
It's tricky ground to tread on because the case with UFC Undisputed and THQ paying out in that particular suit opened a door for some hairy situations that game companies may face in the future. It may mean that perhaps artists will wipe the tattoos clean off of athletes in some future games or replace them with copyright-free tattoos.
In the case of the NFL and Electronic Arts, it's noted that players have the artists sign waivers to avoid ending up in the same situation that 2K Games now find themselves in. So despite all the issues with Madden NFL games, getting sued over tattoos is not one of them.
It will be interesting to see how the judge responds to this case, because right now 2K Games is not playing ball with the very high $1.1 million dollar suit.
Your Daily Blend of Entertainment News
Staff Writer at CinemaBlend.
Your Daily Blend of Entertainment News
Thank you for signing up to CinemaBlend. You will receive a verification email shortly.
There was a problem. Please refresh the page and try again.