Tetris Blitz Stacks On Fast, Freemium Gameplay This Spring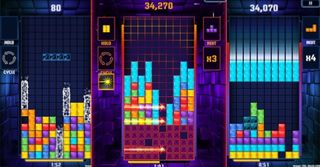 Despite having a dozen different iterations of the classic gameplay pop up on a dozen different platforms, it looks like we still haven't seen all that block-stacking game Tetris has to offer. Electronic Arts and The Tetris Company, LLC today announced the impending release of Tetris Blitz, yet another new spin on the decades-old formula and, this time, it's coming in a brand new freemium packaging.
The "Blitz" series of games have gone far to revitalize many different games by turning tried and true mechanics on their ear with gameplay that is specifically geared towards faster play and limited time. It's ideal for mobile gaming, which is why we can expect to see Tetris Blitz later this year on iOS and Android devices.
Tetris Blitz is still all about stacking bricks and clearing lines, but now it revolves around a two-minute sprint to rack up as many points as possible before the timer hits zero. Clearing multiple lines back-to-back will activate Fever Mode, which adds multipliers to your score. Players will also be able to enhance their game with various power-ups with new power-ups being released on a weekly basis. And while the traditional "swipe" controls mobile Tetris fans have become familiar with will still be an option, a new "Drag and Place" option is also being offered. And then there's the Facebook Connect integration, which lets players compete against their friends in weekly competitions, share their high scores and, of course, brag. No word yet on what part of the game will be "freemium," but if it's like other Blitz titles, those additional power-ups and maybe tokens to play the game more than a certain amount per day are likely culprits.
"Tetris Blitz wraps all of the best elements of the iconic Tetris game inside a bite-sized, frenzied experience that is perfect for smartphones and tablets," said Nick Earl, Senior VP and GM for EA's All Play label. "The crisp graphics, innovative new controls and social leaderboards are bound to make Tetris Blitz a captivating gaming experience for longtime Tetris fans and newcomers alike."
Look for Tetris Blitz to hit iTunes, Google Play and the Amazon App Store "later this spring."
Your Daily Blend of Entertainment News
Staff Writer for CinemaBlend.