There Are Secrets Hidden In This Pixelated League Of Legends Map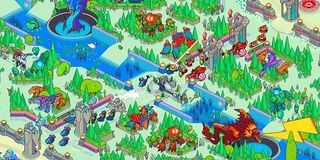 To celebrate the launch of a couple new retro arcade skins, the League of Legends team have released a similarly old-school pixel art wallpaper of Summoner's Rift. There's a lot going on in the image, though, and apparently a bunch of surprises, too.
Announced today through the League of Legends blog, this retro-infused map has been unleashed upon the masses to celebrate the release of Arcade Riven and Battle Boss Blitzcrank skins within the popular MOBA. The work of Megapont.ru, there's more to be seen here besides some fun scenery that looks like it was plucked out of a game from around 20 years ago. Here's how Riot described the map:
That last sentence has kicked off a rabid search to discover said secrets. From the League of Legends forums to various posts popping up all over the internet, dedicated fans are trying to figure out what hidden messages might be peppered throughout the bright and colorful look at Summoner's Rift.
Here's a look at the full image:
The general consensus seems to be that we may be looking at hints as to which characters are next up for a retro skin remake, though the LoL squad isn't saying a peep.
Even if you're not into the whole rumor and speculation thing, there's still plenty of fun to be had here for League fans. Megapont.ru's map is fun to explore, and you're likely to find a familiar face or two along the way. As a matter of fact, the original post also includes links to wallpapers of the image in various sizes, so you can use it to deck out your own computer, tablet or phone (though you'll have to squint reeeeeeally hard to see anything on that tiny screen).
If, however, you happen to be a fan of Where's Waldo-esque puzzles, then you'll definitely want to check out the comments section for the original post. People have done quite a bit of digging and are having lively discussions about what they see, what they think they see, and what those things might mean for League of Legends.
If you've got your own theories, feel free to include them in the comments section below.
Staff Writer for CinemaBlend.
Your Daily Blend of Entertainment News
Thank you for signing up to CinemaBlend. You will receive a verification email shortly.
There was a problem. Please refresh the page and try again.