Torchlight 2 Pre-Order Gives You Free Torchlight Or Neverwinter Beta Key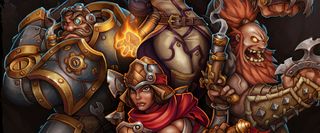 Torchlight 2 is now available for pre-order. The game can be reserved through Steam or publisher Perfect World Entertainment's website. Both retailers are offering a different bonuses to pre-order customers.
If you pre-order the game ($19.99) through Steam, you'll get a free copy for the original Torchlight. Steam is also offering a four-pack of T2. The four-pack is priced at $59.99, so you're getting four copies for the price of three.
Perfect World's website, meanwhile, will give closed beta keys for Neverwinter to pre-order customers. Neverwinter is a free-to-play Dungeons & Dragons MMO currently in development at Cryptic. The closed beta is expected to launch later this year.
Torchlight 2 begins with a mysterious new enemy razing the town of Torchlight from the first game. A new group of heroes must track this powerful being down and defeat him. Their journey will take them through mountain ranges, forests, and a whole lot of dungeons.
Steam lists the Torchlight 2's release date as "Summer 2012." In a recent interview, Runic Games CEO Max Schaefer indicated that they might release T2 a month after Diablo 3's launch, so we might potentially get the game in mid-June.
Staff Writer at CinemaBlend.