Torchlight 2 Sales Top 1 Million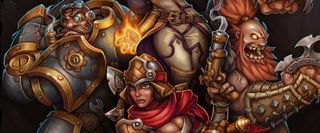 Runic Games' action RPG Torchlight 2 had some stiff competition this fall but still managed to sell well. The Seattle-based developer revealed today that the game has sold one million copies to date.
The first Torchlight took about 21 months to hit that same milestone. By the time that game sold one million, it was available for the PC, Mac and Xbox 360. Torchlight 2 has only been released for the PC thus far.
In Torchlight 2, players explore randomly-generated dungeons filled with monsters and loot. Unlike the first game, the sequel isn't centered around a single town. Players explore a large overworld with several hubs. T2 also introduces co-op to the series.
Runic plans to release a Mac version of T2 eventually. Although the first game made its way to Xbox Live Arcade, no console plans have been announced for the sequel. They're a small studio so if they do have plans for a 360 or PS3 release, they might have to wait until the Mac version is done to start it.
If you haven't picked up Torchlight 2 yet, note that it's 25% off on GamersGate and Steam for the holiday. Its predecessor is 50% off as well. Both games have free demos so you can give them a whirl without paying a cent.
Staff Writer at CinemaBlend.