Torchlight Is Free Right Now, Torchlight 2 Available At Discount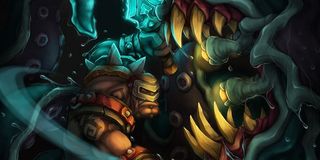 Action RPG fans in need of something for the long holiday weekend to do have two options. Torchlight is now free while its sequel is available for much cheaper than normal.
Torchlight can be downloaded for no charge through Arc (opens in new tab), the game platform for Perfect World Entertainment. The downside is that you'll have to download yet another game client to your PC. The upside is, obviously, a free game.
First released back in 2009, Torchlight was the first release by Runic Games. The Seattle-based studio's founders included Diablo and Diablo 2 co-designers Max Schaefer and Erich Schaefer along with Fate creator Travis Baldree.
You can see the DNA from both those action RPG series in Torchlight. In the game, players descend through randomized dungeons deep beneath the titular village. They battle through hordes of enemies and enhance their characters over time with new loot and skills. The player is accompanied by a pet that assists in combat, carries extra loot, and sells unwanted items to the vendor. The game's retirement system allows experienced characters to pass on powerful heirloom items to new characters.
Torchlight 2, meanwhile, is 75% off on Arc (opens in new tab). This brings the price down from $20 to $5. The discount, like the free copy of Torchlight, will only be available through November 30th.
The sequel corrected a major shortcoming with Torchlight 1: a lack of multiplayer. Players are able to team up with friends over the Internet or LAN for Torchlight 2. Also, unlike Diablo 3, this game's multiplayer doesn't interfere with your ability to play offline by yourself.
Torchlight 2 had a much broader scope in general. Players had four new classes to choose from and can customize their appearance in several ways. The game's world featured several hub towns and overland areas for players to explore. The retirement system was replaced with a proper New Game Plus mode, in which players could replay the campaign with their existing character for an added challenge.
Maybe the bigger selling point for Torchlight 2, though, was the mod support. The GUTS toolset included with the game let players create their own new adventures. Some of these creations, such as SynergiesMOD, are huge. It's a free stream of new content for what's already a pretty large game.
Staff Writer at CinemaBlend.
Your Daily Blend of Entertainment News
Thank you for signing up to CinemaBlend. You will receive a verification email shortly.
There was a problem. Please refresh the page and try again.