Triad Wars Gets New Gameplay Details, Closed Beta Registration Begins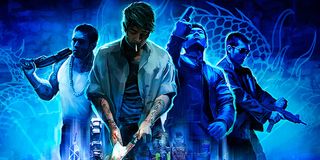 It's not often that a game's sequel dives into a whole new genre, but that's exactly what's happening with third-person action game, Sleeping Dogs. Introducing Triad Wars, an open world multiplayer game for PC that lets you build up your own criminal empire and vie for control of the streets of Hong Kong.
According to the official announcement, the team at United Front decided that, since they already had all of the mechanics and tools to create a game with solid shooting, fighting and driving, they decided it would be fun to plug those features into something a bit different than what they gave players with Sleeping Dogs.
In the original game, players took on the role of a cop working undercover to bring down the Triads. The main focus was the single player story, which suited the game's theme of "one man versus the world" nicely. In Triad Wars, though, the game is all about becoming a part of that criminal world and, through dominating your enemies and amassing enough resources, ruling the town.
You don't start at the top in Triad Wars, though. You begin your life of crime as a lowly enforcer and work your way up through the ranks by taking what you want from the game world and even other players.
"First you'll need to establish your Turf and set up a range of lucrative, albeit questionable operations to build and expand your reach into the underworld—stacking dirty money to the sky, arming you to battle against rival gangs and claiming the streets before they do," reads the announcement. "Whether you choose to excel in extortion, hacking, money laundering, stolen cars or even just good ol' fashioned violence is strictly situational and will be representational of your playstyle. It's your city to claim, and how you do it is entirely up to you."
Triad Wars isn't the first MMO to tackle the world of crime (APB comes to mind), but it looks like it has all of the basic components necessary to pull it off nicely. It's using Sleeping Dogs as a skeleton, for starters, which pretty much nailed all of those key components.
Triad War is slated for a PC launch in 2015 and, even though we haven't heard too much about the game up to this point, it looks like the game has been in the oven for quite a while, because closed beta sign-ups are already underway. For more information or to sign up to be one of the first players to tackle the hard streets of Hong Kong, visit the Triad Wars official website.
Staff Writer for CinemaBlend.
Your Daily Blend of Entertainment News
Thank you for signing up to CinemaBlend. You will receive a verification email shortly.
There was a problem. Please refresh the page and try again.